Artists
British Tone Wizard

Andy Gill is a founding member and guitarist for the English rock group Gang of Four, considered among the most influential post-punk bands. Gill is known for his jagged style of guitar on albums such as Entertainment! (1979) and Solid Gold (1980) and many hit singles. Gill also wrote and produced much of Gang of Four's output, including their most recent 2011 release, and albums for many other artists including the Red Hot Chili Peppers, The Stranglers, The Futureheads, Michael Hutchence, Killing Joke, Therapy and The Young Knives etc…
...continuous rule breaker.

Grand Master

Blues guitar phenom Eric Gales was born and raised in Memphis, learning to play at age four from older brothers Eugene and Manuel in imitation of their upside-down, left-handed style (a tradition actually passed down from their grandfather, Dempsey Garrett, Sr., who was known to jam with the likes of Muddy Waters and Howlin' Wolf). Winning his first blues contest at 11, four years later Eric signed to Elektra to issue his 1991 debut LP.
...excellence redefined.

Born to innovate

Master of unconventional, jazz influenced and rock flavoured progressive guitar virtuoso. Intriguing, intense & inspiring, was born to redefine music...

...constantly evolving.
Art of Tones
Recording artist, studio ace and connoisseur of tone. Pioneer of web-based recording sessions, preacher of high-end everything, photographer, social activist, and piston head. On a mission to communicate complex feelings with just a few notes...
...tone, not talk.
Art of Blues

Blues artist, guitarist extraordinaire, deluxe-sideman and overall nice guy. Devoted his whole life to playing the blues, guitars, tours and expressing the right feelings with or without a guitar. Currently on tour with legendary french singer Jacques Dutronc...
...true feelings.
Northern Tones

Multi-instrumentalist, grammy winner, originally Swedish, road-tough and studio-tight sideman, voted to be one of Denmark's best guitar players. Started music with the piano at age 5, drums at age 8 an found his way to the guitar at age 9. While touring with Dänish stars such as Allan Olsen and Sebastian, he likes to explore new directions with his own music...
...going from good to great.
Royal class

Danish guitar virtuoso, session player and songwriter. Picked up a guitar at the age of 5 and hasn't stopped playing ever since. Well known for his melodic playing style, distinct tone and flawless technique.
...a class on its own.
Creator of Resonance

Soundtrack writer, producer, arranger, touring troubadour, good-vibes generator & platinum session guitarist for artists such as Josh Groban, Deep Forest or Charles Aznavour. Amateur of boutique gear and quality musical instruments, writes music as a message of unity and peace…
...the craft of sound design
Mover & Shaker

Guitar player for Thailand's most happening Pop group: "The Mousses", spends his time on the road, on TV sets, in Music Videos, driving the crowds insane, playing his T-Wave Sen and keeping the Mousses guitar tones going strong!

...joy giver !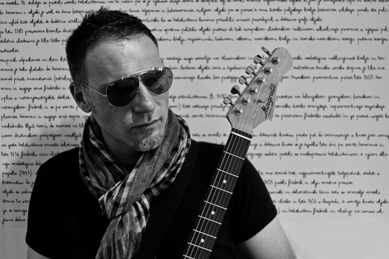 Uros PLANINC

Positive Player

Rock guitar pioneer, bandleader, instrumental music maker, positive player, serious with humour, has been touring all over europe with various bands and artists out of the rock scene. Currently touring all over Slovenia with the Uros PLANINC Group and keeping his instrument's voice intense …
...dancing on the fretboard.