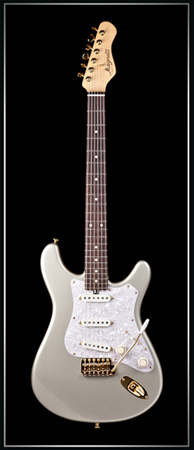 The Sonnet "Raw Dawg" was custom built for Mr. Eric Gales.
It all started with a phone call from Mr.Kelcey Alonzo from Customguitarboutique.com; Kelcey happens to know Eric and he found that Eric would appreciate the style and quality of our guitars, our answer was: "you mean THAT Eric Gales?"
Eric GALES is one of the most talented guitar players of our time and after Eric tryed one of our guitars, he decided he would want to play one and asked if we would be able to adjust some specs to his needs.
Based on the MAGNETO Sonnet, the ERIC GALES CUSTOM has a 2-piece american alder body, a canadian hard rock maple neck and an indian rosewood fingerboard. Eric has chosen his first guitar in a Light Mercury Silver finish fitted with gold parts and 3 custom single coils. The tuners are made by Gotoh and Eric trusts the Magneto "Steel Tone" bridge for his tremolo work. ERIC GALES has just realeased his new album "Transformation" available instore and online. Check Eric's website for more information: http://www.ericgales.net/
<<SPECIFICATION SHEET>>



<<VIDEO PRESENTATION>>

| | | | | | | |
| --- | --- | --- | --- | --- | --- | --- |
| COLORS: | | Light Mercury Silver | | | | |
| | | | | | | |